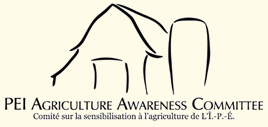 Member List
Atl. Agri Business Council
Bernadette Forrester
(Chair)
Dairy Farmers of PEI
Steven Reeves
Ducks Unlimited PEI
Santina Beaton-MacEachern
PEI 4 H
Rayanne Frizzell
(Treasurer)
PEI Aquaculture
Peter Warris
PEI Dept. of Education & Lifelong Learning
Jonathan Hayes
PEI Exhibitions & Fairs
Jean Tingley
PEI French Language School Board
Diane Tutty
PEI Women's Institute
Gail Steele
PEIAGSC/AITC PEI
Laurie Loane
(Vice Chair)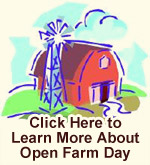 Links
4H
Agriculture and AgriFood Canada- AgFacts
Agriculture in the Classroom Canada
Agriculture More than Ever
OFD 2022
Open Farm Day
PEI Department of Agriculture
PEI Fairs and Exhibitions
PEI Fall Flavours
PEI Open Farm Day Facebook page
Goals:
To raise public awareness of the significant contribution that the agriculture sector makes to the provincial economy and to rural communities.
To foster fair and informed dialogue within and outside the sector regarding issues and concerns in agriculture.
To raise awareness of the PEI Agriculture Sector Council and the Agriculture Awareness Committee as a vehicle for industry partners and government to develop and use resources to foster agriculture awareness in the province.
To develop partnerships with industry to generate increased and sustained funding for agriculture awareness
Objectives:
Provide strategic agriculture awareness direction to the PEIASC
To develop and implement events and resources promoting increased agriculture awareness, based on board approval
To provide monthly written reports to PEIASC board members
To provide an annual budget to PEIASC for approval
Other specific outputs as required
Mission Statement:

To enhance public awareness of the agriculture & agri-food industry, to coordinate agriculture awareness activities and to foster partnerships in the process.
Background:
Formed in 1992, this committee has brought together volunteers from industry, agri-food businesses and government to develop educational and promotional materials and deliver events that improve agriculture awareness in PEI. In January 2013, the committee joined the PEI Agriculture Sector council as a sub-committee in an effort to pool resources and build on each others' strengths. Under this new structure, the committee looks forward to new opportunities to improve agriculture awareness and promote agriculture as a strong, innovative and exciting industry to be apart of.
Projects and Events:
PEI Open Farm Day: An annual event that sees over 20 farms open their doors to the public, providing fun and interactive ways to learn about life on a farm
Agriculture Adventure Days: An annual event that brings over 1500 island students together with industry to learn about agriculture, environment and and nature
Our C150 project has been completed www.facebook.com/peibarnquilttrail/
These "shorts" are now finalized bringing our 2014 PEI Agriculture Committee's Heritage Farms Project to an end. The Heritage Farms Project, which celebrated the rich history of PEI's Agriculture Industry, honored the families of farmers dating as far back as the early nineteenth century with commemorative plaques and a gala dinner. These are their collections of audio histories set to pictures of the past submitted by heritage farmers and O'Leary's Canadian Potato Museum. Produced by Elizabeth, with help from Cassandra Sewell and Dutch Thompson. www.facebook.com/pg/peiopenfarmday/videos/